Tradition Starts Here!
Longhorn Welcome is UT's official welcome for all incoming undergraduate Longhorns. This campus-wide initiative starts just prior to the fall term and features Signature Events as well as dozens of other events hosted by various campus partners. Continue to check this website and the Longhorn Welcome app as events are continually added to the schedule.
All events are created for new students to meet their peers, gain valuable resources, and celebrate UT's culture and tradition!

To see all of the events and details for this year's events, download the Longhorn Welcome app available on Guidebook.

This unique celebration is a rich tradition for all new students to formally mark their arrival as the newest members of The University of Texas community. Stay tuned for more information!

Longhorn Friday is a way for Longhorns everywhere to show their Texas spirit and unite the UT community around the world, and it's as simple as wearing burnt orange or the Longhorn silhouette every Friday.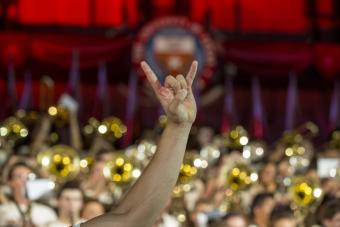 Traditions Starts Here! Learn about key events that you can participate in to learn about UT traditions and meet other new Longhorns.

Check out the full schedule of events for Longhorn Welcome 2023.

Social media accounts to follow