Published:
August 19, 2019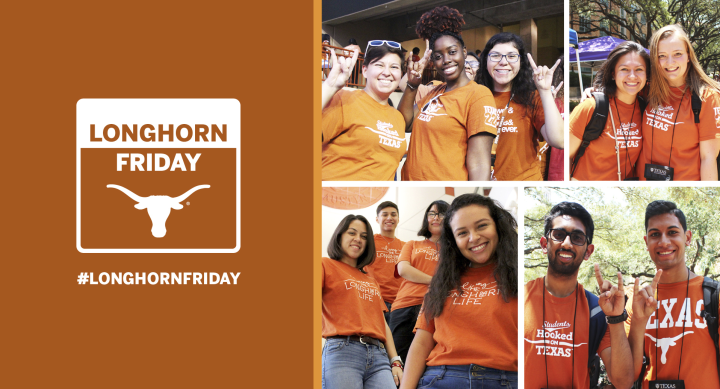 From chanting "Texas! Fight!" in packed stadiums to keeping an eye out for the elusive albino squirrel (and the even more elusive Matthew McConaughey), The University of Texas at Austin has lots of fun traditions everyone can get behind, including one that happens every week: Longhorn Friday.
What is Longhorn Friday?
Longhorn Friday is a way for Longhorns everywhere to show their Texas spirit and unite the UT community around the world, and it's as simple as wearing burnt orange or the Longhorn silhouette every Friday.
When is Longhorn Friday?
The first Longhorn Friday of the semester is Friday, August 30, but that's just the beginning — we'll wear burnt orange every Friday 'til Gabriel blows his horn.
Who can participate?
Anyone and everyone. Students, faculty, staff, alumni, fans, families, friends — even pets.
Do I have to be on campus to join in on the fun?
The Forty Acres certainly sees more burnt orange than usual on Fridays, but we also encourage you to get in the Longhorn Friday spirit when you're not on campus — like in your personal travels, during winter break, and over the summer.
How can I participate?
Wear any burnt orange attire. Drink your morning coffee or tea out of your favorite UT mug. Take a selfie at your favorite spot on campus with your horns up. However you celebrate, share a photo on social media using the hashtag #LonghornFriday!