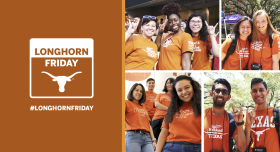 Aug. 19, 2019
From chanting "Texas! Fight!" in packed stadiums to keeping an eye out for the elusive albino squirrel (and the even more elusive Matthew McConaughey), The University of Texas at Austin has lots of fun traditions everyone can get behind, including one that happens every week: Longhorn Friday.
What is Longhorn Friday?
Longhorn Friday is a way for Longhorns everywhere to show their Texas spirit and unite the UT community around the world, and it's as simple as wearing burnt orange or the Longhorn silhouette every Friday.