Electrical & Computer Engineering Tabling Event
Description: Welcome home, ECE students! Department reps will hand out goodies and information about how to register for upcoming departmental events. 
Time: 9:30 a.m. - 3:30 p.m.
Location: EER 2nd Floor Lobby
UT for Me Longhorn Welcome Event
Description: All UT for Me students in all cohorts are invited to stop by this come-and-go event to visit the dedicated student space in our office, pick up a FREE UT for Me T-shirt and other merch, and meet fellow UT for Me students and staff. Breakfast tacos will be available at the event on a first-come, first-served basis!
*This event is for UT for Me students only*
Please RSVP by Tuesday, August 16: https://utexas.qualtrics.com/jfe/form/SV_1NYGns5iD2PDGoS
Time: 9 - 11 a.m.
Location: FAC 2.116
CoLA Resource Fair
Description: An opportunity for students to learn about majors, student orgs and other resources available as a UT Liberal Arts student. First year and transfer students can also pick up their welcome t-shirt.
Time: 11 a.m. - 1 p.m.
Location: Union Ballroom
Longhorn Spirit & Traditions: Transfer Student Edition
Description: Join the Transfer-Year Experience program in celebrating your Longhorn spirit. We will have free food and Longhorn-themed crafts, games, and activities! All new and returning transfer students are welcome to join us!
Time: 11:30 a.m. - 1:30 p.m.
Location: WCP Student Activity Center, 2.410 Ballroom
Gender and Sexuality Center Tour Day
Description: Come by the Gender and Sexuality Center anytime 11-7 to check out our awesome queer, feminist library, our food pantry, tons of resources, and more! Above all, we're a hangout space for students to make friends, build community, and grow. Now featuring our extended evening hours.
Time: 11 a.m. - 7 p.m.
Location: WCP 2.112
The GSE Welcomes Me!
Description: Speed friending, secret handshakes, and button making, oh my! Whether you're coming to make new friends, see what fun weekly programs we have for this semester, or just grab a snack, we welcome you. We're right next door to the GSC so you can stop by for a tour afterwards!
Time: 12 - 2 p.m.
Location: WCP 2.120
RecSports Warm Up
Signature Event
Description: Explore all that RecSports has to offer during this open house-style event featuring group exercise classes, indoor rock climbing, games, and more!
Time: 12 - 7 p.m.
Location: Gregory Gym (GRE)

To see all of the events and details for this year's events and to create your own schedule, download the Longhorn Welcome app available on Guidebook.
Contact New Student Services
Email: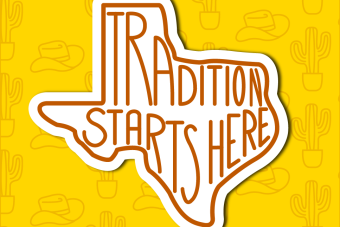 Download the Longhorn Welcome App!
To see all of the events and details for this year's events, download the Longhorn Welcome app available on Guidebook. You can download it directly here. Events links will be posted to a password protected page on this site. Please Note: Event times and locations are subject to change.