Multicultural Mixer
Signature Event
Description: Mix and mingle with Longhorns and staff of all backgrounds! Learn about campus resources available to help you feel more connected while enjoying live music, interactive photobooth, and great food.
Time: 10 a.m. - 12 p.m.
Location: WCP Ballroom
Longhorn Wellness Center and SHIFT Wheel of Wellness Party
Description: The Longhorn Wellness and SHIFT will be throwing a Wheel of Wellness Party with mocktails, snacks, giveaways, and activities. Come hang out and learn more about programs and resources from the LWC and SHIFT!
Time: 3 - 5 p.m.
Location: Longhorn Wellness Center SSB 1.106
Student Activities Open House
Description: Student Activities offers many services to student organizations and their members, so the purpose of Student Activities' Open House is to give brief tours of our space and an overview of our resources provided to students of all classifications. Join us for music and freebies as a welcome to the start of a new semester! 
Time: 3 - 5 p.m.
Location: 2609 University Avenue (UA9), Outdoor Patio & 2nd Floor
Adelante
Description: Adelante is a welcome program held by Latinx Community Affairs (LCA), an agency of the Multicultural Engagement Center. Adelante is an opportunity for you to find you familia at UT. Join us for a night of music, free food, t-shirts and goodies. Students will have the opportunity to learn about various student organizations and resources available to the Latinx community. Please visit utmec.org and follow @utmec and @utlatinx for more information.
Time: 5 p.m.
Location: Gregory Gym Arena
Global Sustainability Leadership Institute Information Session 
Description: Build a better world and regenerative economy for all through sustainable finance, innovation, communications, and corporate business practices. Learn more about the Global Sustainability Leadership Institute's undergraduate minor, graduate courses, events, and hands-on programs at our info sessions. The first session will be August 25th at 5:30 p.m. and will include FREE Tiff's Treats! All UT Austin students welcome!
Time: 5:30 p.m.
Location: GSB 3.106
UT Soccer vs. North Carolina
Signature Event
Description: The first 500 UT students will get FREE Raising Cane's before the Longhorns take on perennial power North Carolina. Food will be distributed starting at 6 p.m. so arrive early and bring the Texas Fight!
Time: 7 p.m.
Location: Mike A. Myers Soccer Field
Feminist/Queer Student Welcome Picnic 
Description: Join us for an outdoor picnic by the turtle pond as a welcome to SAGE. SAGE is a social and academic organization supporting feminist/queer students. We will be sharing snacks and resources! SAGE provides a casual space on campus for feminist/queer students to discuss their futures, important social justice topics/events, self-care practices, and artwork. SAGE is open to all students, WGS majors/minors, LGBTQ Studies, and certificate students.
Time: 7 p.m.
Location: Turtle Pond

To see all of the events and details for this year's events and to create your own schedule, download the Longhorn Welcome app available on Guidebook.
Contact New Student Services
Email: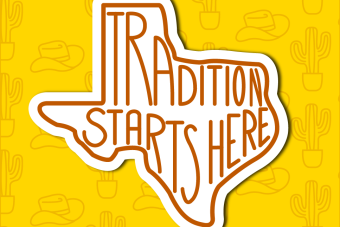 Download the Longhorn Welcome App!
To see all of the events and details for this year's events, download the Longhorn Welcome app available on Guidebook. You can download it directly here. Events links will be posted to a password protected page on this site. Please Note: Event times and locations are subject to change.